The Mystery of Woolley Mountain
Press Kit
Fact SheetDevs:

Lightfoot Bros

Publisher:

Lightfoot Bros

Based In:

London, UK

Platforms:

Steam, Console, Mobile

Release Date:

March 2019

Websites:www.woolleymountain.com Woolley Mountain On SteamPress / Business Contact:

Lewis Denby, Game If You Are

+44 (0)7449 384 284

www.gameifyouare.com

​Twitter: @gameifyouare

Description

The Mystery of Woolley Mountain is an otherworldly point & click adventure for the modern gamer.

Funded on

Kickstarter

with backers including legend of the genre Ron Gilbert, The Mystery of Woolley Mountain is set in a fantastical world filled with strange beasts, evil witches, confused automatons and wacky ropemen.

Announcement Trailer
---
Screenshots
(Click for descriptions)
About the game
The Mystery Of Woolley Mountain is a brand new point and click adventure for Windows and OSX, featuring five renegade audio scientists in their quest to rid Woolley Mountain of an evil witch.

"If you loved The Secret Of Monkey Island, Day of the Tentacle, DiscWorld, Space Quest, Trap Door, Phantom Tollbooth and Chorlton and the Wheelies then The Mystery of Woolley Mountain is for you."
- justadventure.com

Set in a surreal, fantastical world where a group of renegade time travelling audio scientists are trying to save the children from a malevolent witch who has kidnapped them from a town on the mysterious island of Woolley Mountain.
An otherworldly new point and click adventure game with a rich storyline, quirky characters and awesome music.​
Colourful world:A fantastical sprawling universe, where beasts, witches, automatons, ropemen and other strange and wonderful beings exist.
Family content and all ages humour: No swearing, well, maybe the word 'Darn' on occassion.
Unique cartoon 2D Graphics:Adventure Time meets the Simpsons, a different look and feel to the other P&C games out there.
Fantastical story:The five scientists travel in their amazing time-traversing Crystal Submarine from island to island, starting out on a small dock and ending up on the dangerous island of Woolley mountain to find and destroy the evil witch.
Meet the crew
Key Artwork
Logos
Powered by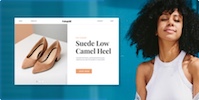 Create your own unique website with customizable templates.